this traditional Italian holiday cheese is made from stretched cows milk mozzarella curd that matures in its own whey, growing more lactic in flavor. Artisanal cheese makers then shape the curd into a ball and tie a string around the neck so it can hang to dry. This produces the smooth, creamy-white, pear-shaped scamorzas you see hanging in traditional salumeria shops next to oily salamis and huge provolone torpedos. Mozzarella made this way can keep for several days at room temperature and has a mild, nutty flavor. Lop off small chunks or slices and enjoy as a table cheese with an array of olives and salami or use for melting and cooking.
Product Details:

Size: LB
Country of Origin:

United States of America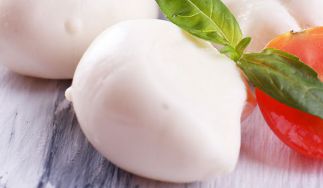 The Salzarulo family began its latticini tradition over 100 years ago in the town of Lioni, Italy. The family moved to Brooklyn in 1980 and, within only three decades, transformed their small neighborhood business into a nationally recognized manufacturer of fresh mozzarella. Today, the...
Learn more about Lioni Latticini, Inc.