The RubyFrost is one of two managed varieties developed by Cornell University and marketed exclusively by Crunch Time Apple Growers, a group of 145 apple growers across New York state.Highly versatile, the RubyFrost is a delicious fresh eating apple with a definitive crisp texture. Slow to brown and very high in Vitamin C like its cousin the SnapDragon, The RubyFrost is exceptionally juicy, with just the right balance of sweetness and tartness. It makes for an outstanding baking apple, holding its shape and flavor. It is also an excellent choice for both sweet and savory recipes.The apple is picked fresh during fall harvest but kept in cold storage for several months to allow the apple's distinct flavor to develop. The Ruby Frost actually gets better in cold storage, which makes it the perfect winter fresh apple.
Product Details:

Size: 50-60 CT
Country of Origin:

United States of America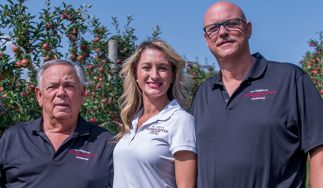 Hudson River Fruit Distributors in Milton, N.Y. is one of the largest apple growers in this region. It was established in July 12, 1963, by Isadore "Izzy" Albinder, along with his son Harold Albinder. Izzy first entered the apple business back in 1932, after immigrating from Russia. He saw an...
Learn more about Hudson River Fruit