Heron Farms, Charleston, SC
Turning sea level rise into food.
About Heron Farms

Heron Farms is the world's first vertical saltwater farm growing halophytes in Charleston, SC. We pride ourselves on building a different kind of food company, one that gives back to the planet instead of simply taking from it. Our mission is to create a sustainable agricultural system rooted in seawater while also restoring coastal marshlands.

Our first product, Sea Beans, are a cousin to beets and spinach and share their nutritional value, but are much tastier and a great plant-based salt alternative! Biting into a Sea Bean is like taking a bite of the ocean! Crisp with a salty kick it is the perfect (and healthier) salt replacement.

Heron Farms began as a research question posed by founder Sam Norton in graduate school; what if two of the 21st century's largest problems, rising seawater levels and excess carbon dioxide, could be leveraged into next generation sustainable agriculture? Through his exploration of this exciting possibility grew Heron Farms.

Our global agricultural systems and cultivation methods have become outdated and strained by our adverse effect on ecosystems around the planet. Rather than trying to change the entire global agricultural system overnight, we decided to create an entirely new one - one fueled by the Earth's most abundant natural resource, seawater. We grow healthy produce year-round that is tasty and nutritional. For the first time in history we are producing food without any natural sunlight or freshwater.

For every pound of product sold we restore one square foot of marshland. Not only do customers get to feel good about buying a healthy delicious product, but they also get to feel good about helping the planet!

Since inception, Heron Farms has focused on scalable sustainability aided by sophisticated technologies. Our farm employs predictive software and cutting-edge automated data collection and analysis methods to manage and monitor various parameters including water salinity, carbon dioxide, growth cycles, and yield. We are a rapidly growing company supplying both food service and retail outlets. From top name chefs to direct consumers we are providing high quality products that are good for you and the planet.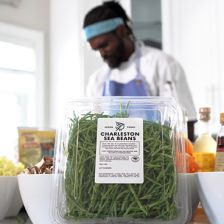 "Heron Farms' innovative seawater agriculture has given chefs the ability to utilize this unique and beneficial vegetable year-round with unlimited supply. Their sustainability and restoration mission are an asset for the coastal future and I am thrilled to be supporting this local farm."

Garrett Priester, Saltus River Grill