Greenhead Lobster, Stonington, ME
The Way Lobster Should Be
About Greenhead Lobster
On the docks daily for 25 years, Greenhead Lobster is Maine's largest family-owned lobster supplier. Our lobsters are harvested by a dedicated fleet of Stonington, Maine lobstermen and women, many of whom have been delivering their daily catch of lobsters from the waters of Penobscot Bay to the Greenhead Lobster docks for generations. The cold, clean water, and rocky, rural shore is the perfect environment for producing sweet, tender lobster.
After 25 years in the live lobster business, owner, Hugh Reynolds, recognized the importance of quality seafood processing and invested in creating a state-of-the-art processing facility, located just 40 minutes from our Stonington, Maine docks. This investment allows Greenhead Lobster to have quality control over every step of processing.
Using a High Pressure Processor (HPP) is what sets lobster processors apart. Sending live lobsters through our HPP allows for the quickest, most humane death. This stress-free, non-thermal process preserves flavor + texture, preserving the live lobster experience in all of our products.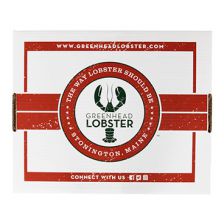 "Family owned and operated for over 20 years, Greenhead Lobster is on our Stonington dock every day, working with independent fishermen to guarantee our customers receive only the highest quality Maine lobster. When lobsters are harvested, selected, and shipped under the Greenhead Lobster name, only the best will do."

Hugh Reynolds, Owner
In Season Now
From Greenhead Lobster
EXPLORE THE WORLD OF BALDOR