Bazzini, Allentown, PA
The nut brand of choice among chefs in the finest restaurants and hotels
About Bazzini
The Bazzini company was established in 1886 and has served with consistency, reliability and quality in the nuts and dried fruit trade. In addition to being one of the oldest nut companies in the country, it is also one of the most diversified. We continue to enjoy a reputation as the finest quality on the market.
Bazzini is the brand of choice among chefs in the finest hotels and restaurants. Most of the Food Service companies on the East Coast as well as some national distributors carry Bazzini to meet their customers' demands.
Buyers in gourmet retail stores, specialty boutiques, and virtually all grocery distributors and delis, carry our large variety of consumer retail packages.
The famous Yankees have been selling Bazzini Peanuts since 1923.
Our industrial ingredients division serves the baking, confectionary, and ice cream industries.
Bazzini also owns several nationally sold retail chocolate brands, including Bartons and Barricini and Focus Snacks.
Bazzini's quality roasted nuts, dried fruits, mixes, nut butters, chocolate coated products, confectioned nuts, unique brittles, chocolate bars, truffles, and gifts make Bazzini an excellent source of supply.
We look forward to serving your needs.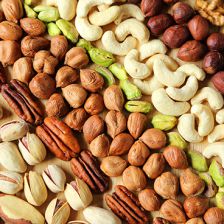 "Bazzini's goal is to supply the market with high quality nuts, snacks and ingredients to help any place that serves food, prepares food or sells food enhance their dishes to make their customers happy."

Jan Friedman
In Season Now
From Bazzini
EXPLORE THE WORLD OF BALDOR