Spigariello looks a little like broccoli rabe but tastes more like broccoli; some say it has a mild broccoli sprout-like flavor or that it tastes like a cross between broccoli and kale, which it is. Spigariello has long, edible stems with curled green leaves. The slender stems are tender and don't need peeling, just a small snip across the bottom. Spigariello is a cool-season crop that can take some frost. It peaks mid-winter and last through spring. Grown organically on a small family farm in Sunderland, MA and here within a day of harvest.
Product Details:

Size: 12 CT
Country of Origin:

United States of America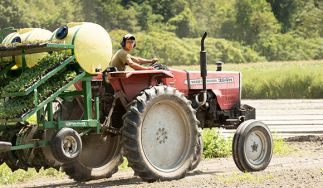 Kitchen Garden Farm is located in the heart of the Pioneer Valley, the prime agricultural region of Western Massachusetts. The farm consists of 50 acres of rich river bottom soil with fields on both sides of the Connecticut River, in Sunderland and Whately. Caroline Pam and Tim Wilcox...
Learn more about Kitchen Garden Farm