Grown right here in Milton, N.Y., Cortland apples are a cross between McIntosh and an heirloom variety called Ben Davis. Cortlands have tender, snow-white flesh and good amount of sweet-tart juice. They dont oxidize readily after being cut so are an excellent ingredient in fruit salads and for featuring on cheese boards.
Product Details:

Size: 80-88 CT
Country of Origin:

United States of America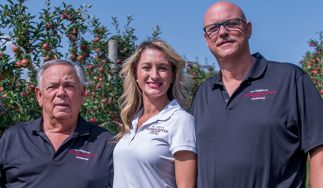 Hudson River Fruit Distributors in Milton, N.Y. is one of the largest apple growers in this region. It was established in July 12, 1963, by Isadore "Izzy" Albinder, along with his son Harold Albinder. Izzy first entered the apple business back in 1932, after immigrating from Russia. He saw an...
Learn more about Hudson River Fruit