A great, flavorful, all-purpose apple, Empires are a peak winter apple. They have a mildly tart flavor with a wine-like aftertaste. Their snow-white flesh is crisp-tender, juicy and resists browning, which makes them a good apple choice for cheese platters and fruit salads. Empires have relatively thick skin which helps them retain their rich flavor when cooked. Avoid overcooking though when baking or sautéing. Empires are not a good storage apple as they tend to get mealy and overripe when stored too long. Use them within a week of purchase.
Product Details:

Size: 80-88 CT
Country of Origin:

United States of America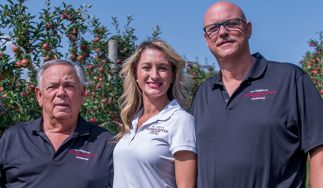 Hudson River Fruit Distributors in Milton, N.Y. is one of the largest apple growers in this region. It was established in July 12, 1963, by Isadore "Izzy" Albinder, along with his son Harold Albinder. Izzy first entered the apple business back in 1932, after immigrating from Russia. He saw an...
Learn more about Hudson River Fruit