Made from mature blue agave plants that stand 6-8 feet tall, when their sugar is peaking. Hand-cut with a razor-sharp blade and pressed. The inulin-rich juice is collected, cleaned and heated slowly until the inulin turns into fructose - the slow-metabolizing simple sugar found in many fruits and vegetables. Raw Blue Agave enhances food's natural flavors and the end result is a sweet, low-glycemic organic nectar that is perfect for baking, sweetening beverages and fresh fruit and for tabletop use. Because agave is low-glycemic it is recommended as the preferred sweetener for diabetics.
Product Details:

Size: 1 GAL
Country of Origin:

United States of America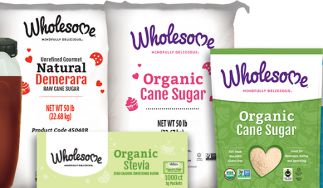 Sweet is always better when it's wholesome. In 2001, we committed to this simple promise. And we've been pouring our hearts into it ever since—making organic, better-for-you products that sweeten moments for you as they sweeten lives for others. The result? Wholesome sugars,...
Learn more about Wholesome