The Town Dock, Narragansett RI
Holding Squid to a Higher Standard®
About The Town Dock
The Town Dock is a market leader in foodservice calamari with a growing retail presence. For more than 40 years, we've focused on offering both the highest quality wild-caught calamari and the very best service. We are located on the water in Point Judith, Rhode Island - a key to our success as a vertically integrated seafood company who oversees our product from catch to cuisine.

Over the decades, we've seen incredible growth in our business by helping our partners grow theirs. We work with a dedicated fleet of fishing vessels, local fishermen, and global suppliers to source the best calamari from all over the world. We work with distributors, foodservice operators, chefs, and retail establishments to help them offer the right calamari for their unique business.

We're one of the largest calamari suppliers in the United States and a key player in the international marketplace. But we haven't forgotten who we are: a family-owned business who strives to do the right thing every day.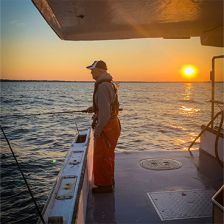 "Our goal is to provide our customers with the highest quality product and service you can't find anywhere else. We hold ourselves to a higher standard every day."

Noah Clark, Founder