More About This Product
Our ultra-fresh, crips rhubarb stalks are grown by the Lancaster Farms Fresh Cooperative - a group of about 100 small-scale farmers in Pennsylvania practicing sustainable and/or certified organic farming methods. Field-grown rhubarb has denser flesh than hothouse -grown and - like all rhubarb - must be cooked with some sugar to be palatable. Peel away any strings as you would a celery stalk and discard all leaves (don't eat them - they are toxic!). Poach chunks in a simple syrup no more than 10 minutes. Use in relishes, chutneys, sorbets, pies, marinades, compotes, crisps and more.
Product Details:

Size: 20 LB
Country of Origin:

United States of America local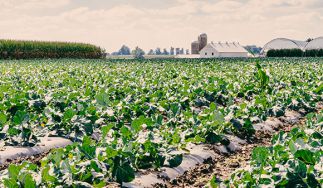 Lancaster Farm Fresh Cooperative (LFFC) is a non-profit organic farmer's cooperative of about 100 small scale farmers working 350 acres in Lancaster County, Pennsylvania. They focus on creating healthy, high quality foods from their strictly maintained and enriched soils on their family...
Learn more about Lancaster Farm Fresh