Imagine walking into a cathedral so unusual, you're not sure this is real life. First, you've traveled over 60 miles below ground to get there. And now, as you walk throughout the vast 15-mile tunnel, you notice the walls: Light and dark, never-ending concentric circles, paving the way. Oh, and one more thing. Those walls? They're salt.

Realmonte Salt Mine, located in southern Sicily, is one of the largest in salt caves in Europe, believed to hold at least 100 million tons of salt reserves, five hundred thousand of which, are mined each year. The cave, a product of the Mediterranean Sea and a long period of significant evaporation, was born over five million years ago. In celebration of the unique, treasured space, salt miners built the cathedral, which can hold 800 people, in the early 2000s.
Product Details:

Size: 3 LB
Country of Origin:

Italy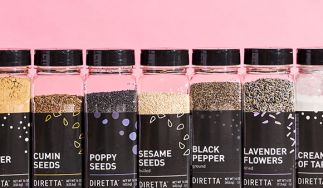 Baldor Specialty Foods is proud to introduce Diretta, our thoughtfully curated private label brand. When, we set out to expand Diretta, after starting small with a collection of sea salts, it was important to us that we implemented the same level of care that all our makers put into each item we...
Learn more about Diretta