Patriot Pickles' signature all-natural Kosher Dill pickle boasts a robust, garlic-laced dill flavor and crisp texture that make it a mouth-watering accompaniment or ingredient for sandwiches, burgers and more! Made with
fresh cut cucumber rounds and flavored with spices, garlic and turmeric.
Product Details:

Size: 400 CT 5 G
Country of Origin:

United States of America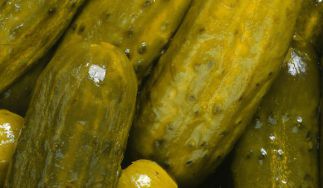 Twenty five years ago, brothers Bill and Bob McIntee owned seven hamburger/hot dog type restaurants in New Jersey. They found themselves continually frustrated by the fact that they could not get a decent pickle to serve on the side of the plate. They then began sourcing equipment and curing tanks...
Learn more about Patriot Pickle