Owners Tim Wilcox and Caroline Pam start by blending fully ripened ghost peppers, red chilies, and habanero peppers grown on their own certified organic farm in Sunderland, MA. They grind this blend with organic garlic, sugar, and salt and allow to ferment for 4-10 days, depending on the ambient temperature. After fermentation, the pepper mash is heated and passed through a food mill to remove all of the skins and seeds. Then they cook it with vinegar and bottle it. Kitchen Garden's Organic Ghost Pepper Sriracha Sauce is sealed and shelf-stable, but should be refrigerated after opening.
Product Details:

Size: 12 X 8 OZ
Country of Origin:

United States of America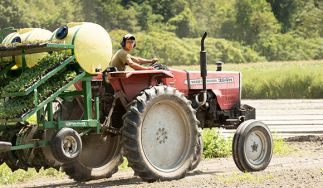 Kitchen Garden Farm is located in the heart of the Pioneer Valley, the prime agricultural region of Western Massachusetts. The farm consists of 50 acres of rich river bottom soil with fields on both sides of the Connecticut River, in Sunderland and Whately. Caroline Pam and Tim Wilcox...
Learn more about Kitchen Garden Farm