More About This Product
Located about 4-5 hours north of N.Y. City, Norwich Meadows is an organic farm operating year round in the heart of dairy country. Owner Zaid Kurdieh credits his proprietary fertilizer mix for the deep, way different, earthy flavor of his crops. His Celery Knob, also called Celeriac, has a delicate celery flavor and solid, fibrous texture. Peel and shred raw for salads, simmer into soups or stews, bake in a gratin with potatoes and cheese. To lighten the flavor for salads, you can blanche celery root first in salted water.
Product Details:

Size: 10 LB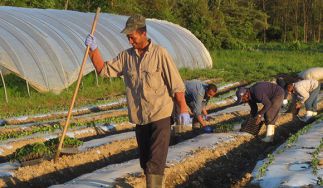 After working in the dairy division at Cornell Cooperative Extension for six years, Zaid Kurdieh and his wife Haifa decided to open their own certified organic farm in 1998. Starting with just a half acre behind their house, their vision of supporting the community has become a reality and now they...
Learn more about Norwich Meadows Farm