More About This Product
The Applewood Bacon is made exclusively from our Compart Duroc Fresh Pork Belly making the most flavorful melt in your mouth Bacon you can buy. This item is a whole belly Smoked & Cured, into bacon sliced in half slab not sliced. The Half Slab bacon is popular at local butcher shops that want that old school way of slicing bacon for their customers whatever thickness they want. It is also a great cut for the restaurant that is using Bacon in many different slice thicknesses and/or diced.
Product Details:

Size: LB
Country of Origin:

United States of America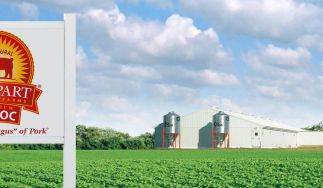 Premium quality Compart Duroc® Pork is the result of a carefully managed pork breeding program. Compart Duroc® hogs are bred, born and raised on small farms where family members are involved in the day-to-day management of their stock. The breeding program is the result of over 65...
Learn more about Compart Family Farms
Product Unavailable
Select a Substitute item below
COMPART FAMILY FARMS
Half Slab Applewood Smoked Bacon
MESMN2C