More About This Product
St Louis Ribs peeled averaging between 2.25lbs and 2.75lbs. The term peeled has to do with a thin membrane on the backside or bone side of the rib being removed. This helps when the ribs are cooked, making it more tender and easier to cut between the bones while eating the finished product. This cut is derived from a fill Sparerib then a straight cut removing the boney part known as the brisket bone or rip tip. Then you have a uniform square cut rib also known as St Louis Rib. This cut is most commonly used in BBQ restaurants and inherited its name from the BBQ world of St Louis, Missouri. Each piece averages 2 1/2" packed 3 per cryovac 4 packs per case. Case weight averages 33lbs.
Product Details:

Size: LB
Country of Origin:

United States of America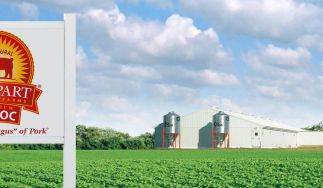 Premium quality Compart Duroc® Pork is the result of a carefully managed pork breeding program. Compart Duroc® hogs are bred, born and raised on small farms where family members are involved in the day-to-day management of their stock. The breeding program is the result of over 65...
Learn more about Compart Family Farms