Grown by Crescent Duck Farms, breeders of premium Genuine Long Island Ducklings which are the highest quality duck for more discerning restaurants. The breast of these birds is extra large, usually used in the production of foie gras. It is lean, meaty and dense, perfect for searing in a cast iron skillet to medium rare. Be sure to trim some of the fat flap that covers one side before cooking. Slice the rosy flesh on a bias and serve with a rhubarb or kumquat chutney, depending on the time of year.
Product Details:

Size: 10 X LB
Country of Origin:

United States of America local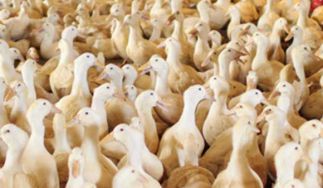 In 1908, Henry Corwin started his duck farm with 30 White Pekin ducks on 25 acres of land in Aquebogue, Long Island. Five generations, six times the property and 106 years later, Crescent Duck Farms is still producing the highest quality ducks for discerning "white tablecloth"...
Learn more about Crescent Duck Farm
Product Unavailable
Select a Substitute item below
CRESCENT DUCK FARM
Boneless Double Duck Breast
MEDUC1B