Meyer lemons are a hybrid fruit with a thin, crayon-yellow rind that cradles pale pulp bursting with aromatic, mild juice. The juice is sweeter and less acidic than common lemon juice making Meyers the first choice for pastry chefs. Use them to infuse olive oil, to make a Meyer lemon vinaigrette, lemon sorbet or an intense lemon curd. Stuff thick slices inside the cavity of whole fish before roasting, squeeze into cocktails and lemonade, add the zest to a bowl of olives or steaming shellfish. Squirt into a skillet of sauteeing zucchini, baby artichokes or leeks.
Product Details:

Size: 18 X 1 LB
Country of Origin:

United States of America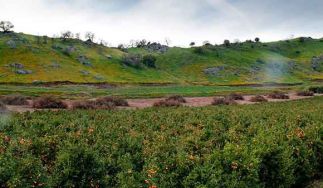 In 1988, Eric and Kim Christensen purchased an orange grove with a home on it. Once they moved on to the ranch, they started to get ideas about packing and selling their own fruit without going through a large commercial packing house. This gave them the flexibility to grow some of the unique...
Learn more about Rising C Ranches