More About This Product
This delicious innovation on cilantro stands out for its feathery fronds and subtle, citrusy flavor. Row 7 team member Zach Pickens first encountered Delfino as a market grower in New York in 2011. Impressed by the slow-to-bolt plants, he found that local chefs were just as enchanted by the crops delicate foliage, which is striking on the plate and holds up well to fine chopping in the kitchen. The only downside? The variety had recently been discontinued. Zach tracked down a handful of seeds and used them to increase his own supply, saving seed from the best plants. Ten years later, were thrilled to showcase this unique variety. Delfino is tasty at every stage, with leaves, young blossoms and coriander seeds all providing variations on its bright, fresh flavor.
Product Details:

Size: 4 OZ
Country of Origin:

United States of America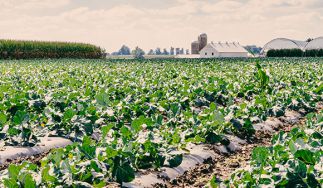 Lancaster Farm Fresh Cooperative (LFFC) is a non-profit organic farmer's cooperative of about 100 small scale farmers working 350 acres in Lancaster County, Pennsylvania. They focus on creating healthy, high quality foods from their strictly maintained and enriched soils on their family...
Learn more about Lancaster Farm Fresh