Fuertes are not so commonly available in our area because no one wants to ship these thin-skinned California avocados cross country. We fly them in direct from Bernard Ranches in Riverside so they arrive in peak condition. Fuertes are meaty with a rich and creamy flesh that has its own unique flavor. The Bernard family credits the combination of their rich, organic, seaweed-fertilized soil and suitable southern California climate for the distinct flavor and lush texture.
Product Details:

Size: 20 LB
Country of Origin:

United States of America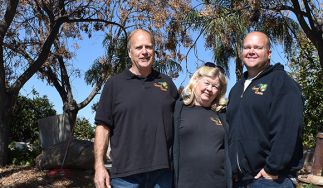 Vince and Vicki Bernard began farming their land in 1979 and have been bringing their produce to market since 1980. Their land is farmed sustainably by relying on the use of beneficial insects, avoiding the use of synthetic pesticides or herbicides, and the use of drip irrigation systems. Their...
Learn more about Bernard Ranches