Grown right here in Milton, N.Y. by the Albinder family, this is a very old variety originating in Europe. Lady Apples are hard and snappy with a sweet-tart taste. They range in color from brilliant red to yellow with red blushing. Small enough to fit in the palm of your hand, Lady Apples are great for nibbling, canning, for garnishing roasted meats and are even small enough to weaved into holiday wreaths and garland.
Product Details:

Size: 1/2 BSH
Country of Origin:

United States of America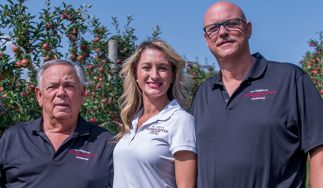 Hudson River Fruit Distributors in Milton, N.Y. is one of the largest apple growers in this region. It was established in July 12, 1963, by Isadore "Izzy" Albinder, along with his son Harold Albinder. Izzy first entered the apple business back in 1932, after immigrating from Russia. He saw an...
Learn more about Hudson River Fruit